Books by Dr. M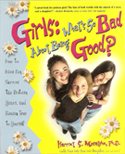 Girls: What's So Bad About Being Good?
How to Have Fun, Survive the Preteen Years, and Remain True to Yourself
Check out our Comments column!
Kids
— April 14, 2017 —
It always seems like my mom is yelling at me for every tiny mistake I make, even if it's not my fault. She always makes me do things for my older sister, and she makes me do the chores that could be done by either of us. She doesn't like the clothes I like to wear, and she doesn't like me to spend more than five minutes on my phone. She won't let me get an Instagram account, and tiny things, even the WAY that I wear my clothes, bother her. Just yesterday I rolled up my jeans to my ankles and she said it looked "goofy," so I unrolled them just to please her. She never makes me feel good about myself, and she doesn't have nearly as many rules for my sister. When I tried to tell her all this, she just yelled at me and didn't let me finish. Please help! What should I do?
— Catalina, 11
Dear Catalina,
You're in a very difficult position because you have already tried to talk to your mom and she wouldn't listen to you. You might try writing her a letter, as an email or an actual letter. In the letter, give her the facts of the situation and let her know how her negative reactions to your clothing choices make you feel. Also, note that the way chores are assigned seems to be unfair with you doing much more of them than your older sister. If you have an idea for how to divide chores more evenly, suggest it. If your mom does not respond to your letter or yells at you about it, see if you can get help from another relative—your dad, an aunt, or a grandparent—who might get through to your mom. If you feel comfortable discussing the situation with your sister, do so and ask for her help.
You might also consider ways to reduce the stress you're experiencing by writing in a journal, exercising, working on a fun hobby, or hanging out with friends.

Ask Dr. M. for Advice on Your Problem
Top of Page
— April 2, 2017 —
My parents make me go to this social group because they think I need more friends. The problem is, I hate it! There are only a few people I like there, and there is this one girl who is so loud she makes me want to duct tape her mouth shut! But the main problem is that the adult who runs it treats me like a baby because I'm shy and I have an anxiety problem. I'm turning 12 next month! What should I do? I'm too scared to stand up to her, and my parents won't let me quit. Please help me.
— Anonymous, 11
Dear Anonymous,
Your parents probably don't want you to quit the group because they feel that eventually you will develop the social skills you need (including being able to stand up to the group leader and other authority figures). I understand your frustration with the girl who is very loud, but try to keep in mind that she is probably in the group because she needs to learn how to interact with other kids in a more appropriate way. My advice is to give the group a bit more time and stay open to the possibility that one or two members might be the kinds of people you would want as friends. Another step you can take is to role play with your parents how you might talk to the group leader about how she is treating you. Once you've practiced, you should be able to talk privately with her about how you would like to be treated. You could say something like the following: "I know I'm kind of shy and that may make you think I need to be treated very gently, but I would appreciate it if you would deal with me the same way you do with other students in the group." The more you practice speaking in an assertive way, the easier it will become.

Ask Dr. M. for Advice on Your Problem
Top of Page
— March 18, 2017 —
I want to be a writer or historian or archaeologist when I get older, but my parents don't seem to support me. Usually they are very supportive and allow me to make my own decisions, but they say that the jobs I want are not profitable and can even be dangerous. They want me to enter the science field, particularly the medical field, but I know I wouldn't be any good and I never really liked science or math. I told them this but my mother said she would not let me take up history or writing or media. She says I can pursue my passions after I get a decent job, but I don't want to waste years of my life doing something I hate. How do I get the job I want when my parents won't support me?
— Unsupported, 13
Dear Unsupported,
First I want you to know that you're not alone, and that a lot of people in college—in my very own college too—have to go through what you're dealing with. And you're still a few years away from college. Also, I want you to know that luckily you've got a lot of options in college to study more than one thing. That said, you have a few choices to make. Since I think your parents are just worried about your future, you could do some research and show them some action plans. Important things to research are average salaries of people who major in history or archeology, as well as what kind of job prospects exist. This way, you'd make them feel calmer about your future. If they still won't budge, you could always study some science (whichever you like most) as well as history or archaeology, or whatever at the same time. Lastly, though this is the most drastic of choices, you could just go to college without the support of your parents, borrow money and take whatever financial aid you can. This is the most difficult of choices but it's good to keep that in mind.

Ask Dr. M. for Advice on Your Problem
Top of Page
— March 5, 2017 —
Hello. I talked to you on Skype with all my class. Well, I need your opinion on this thing. I go to my dance classes every day from Monday to Friday and I come home like at 7:30 pm, so I don't have any free time so I can't invite friends over or do my homework. I don't know what to do because I love my dance classes but they take a lot of time away from my school work and my friends.
— Katilu, 11
Dear Katilu,
I enjoyed my Skype talk with your class in Guatemala, and I'm glad you reached out to me for help with the challenge you're facing now. Since you are very committed to your dance classes, you need to create a time management strategy that will allow you to make the most of your weekends and each night after 7:30. My suggestion is for you to focus on getting your homework done right after dinner and to not even try to see or speak to friends on weekday nights. Since you don't have dance classes on the weekend, that's the time for your friends. And if you have project work for school, the weekend is the perfect time for doing that. If you can get ahead in your schoolwork on the weekend, you will feel less stressed during the week.

Ask Dr. M. for Advice on Your Problem
Top of Page
— February 20, 2017 —
I get super angry at my sister sometimes! She's 6, very smart, and knows how to push my buttons! When my parents reward her, she turns into a HUGE "Goody-Two-Shoes" and starts telling on me for nothing, and if you put this on your (AWESOME) column then people might think this is childish, but she gets me SOO annoyed. Sometimes I tell my parents but they say "You need to just let her be" or " She's only 6!" but she acts like she's 20! And if you say something to push HER buttons, well let's just say it can get ugly! I try talking to her but when she says "Of course I'll stop" she totally breaks her so-called "promise" and goes behind my back and does so many horrible things to my room! I can't take it! What should I do?
— Angry Sister, 11
Dear Angry Sister,
I don't think your concern is childish. I can understand your frustration and anger about the situation. Although your sister is much younger than you, she is old enough to recognize that she is acting in ways that she knows will upset you. She may be jealous of you and the extra privileges you have because of your age, and she she might also want attention from you but not know how to get it in a more positive way. Although you've tried telling your parents, and their response has not been at all helpful, you might try going back to them using a different approach. Instead of describing what your sister has done to you, explain how her actions make you feel. In addition to working the parent angle, you might also try to give your sister a bit more of the attention she wants. Perhaps you could invite her to work on a "grown-up" project with you. My final suggestion is for you to ignore your sister's annoying behavior when you can and praise her whenever you notice she has been kind to you.

Ask Dr. M. for Advice on Your Problem
Top of Page
— February 4, 2017 —
Hello, since school started, I've made some new friends. One of them has abusive parents. No adult knows this and she made me swear on my life not to tell my parents. It had not been so bad but lately has gotten worse. Her close friend told her mother who called child protection services. My friend has now stopped talking to her, and her parents have grounded her until the issue is cleared. She has invited me to her birthday party, which is a sleepover. I'm worried that her older brother will rape me because I've heard that can happen or that something bad will happen but I don't want to tell my parents. My other friend who was invited as well said not to worry because she has gone there many times. Should I tell my parents? Should I lie and say I'm too sick to go? What should I do? Please help me!!!
— Scared, 11
Dear Scared,
This is a lot of information to have to keep to yourself and not share with your parents. I think it is unfair of your friend to make you swear on your life to not tell your parents. It sounds like you are not comfortable going to this friend's house given what you have been told, so DO NOT GO. There will be other sleepovers. I am surprised that that sleepovers are allowed with an ongoing Child Protective Service investigation. No matter where the truth lies, abuse is serious and must be taken seriously. In situations like this, you need an adult to talk with—have a conversation as soon as possible with your parents.
— Mrs. B.
Ask Dr. M. for Advice on Your Problem
Top of Page
— January 22, 2017 —
This is a minuscule problem but I feel like I should bring it up. I'm 12 years old and my mother is 42. Whenever we are in the car, my mother never buckles her seat belt. It's an embarrassment and a safety concern. She won't buckle her belt until we're 20-30 minutes into the actual drive. It's also embarrassing because when I carpool, my mom will tell everyone to buckle in and won't do it herself. That's the other thing. I have a younger sister who is 9. One time she refused to buckle her seat belt and my mother wouldn't leave the parking lot until she did. When she did leave the parking lot, my mom wasn't even buckled herself! I tried to bring it up once and she just got angry and said she could do what she wanted because she's a grown adult. The other thing is texting while driving. She always texts while driving. I recently collaborated on the making of a No Texting While Driving campaign and my own mother signed it. Now she just texts regardless. I feel ashamed and worried about my mother. Ideas?
— Concerned Child, 12
Dear Concerned Child,
Your problem is not a minor one. It is completely understandable that you are concerned about your mother's actions, and it shows how much you care. It is great to know that you are mature enough to realize the do's and don'ts of driving before you yourself have even begun to drive! Maybe you could look up information about accidents resulting from texting while driving and the effects of not wearing a seat belt and share the facts with your mom to show her that there could be large negative consequences to her actions. Explain to your mom that for the same reason she won't drive until your little sister buckles her seat belt is also why she should buckle up. And tell her that the safety of everyone in the car is at risk when she doesn't buckle up or texts while driving. If she doesn't listen to you, think about talking to another relative who might be able to get through to your mom. You might also tell her that you feel so unsafe when she drives without a seatbelt or texts while driving that you don't feel comfortable having her drive you or your sister anywhere.

Ask Dr. M. for Advice on Your Problem
Top of Page
— January 8, 2017 —
I've been having a really hard time at home lately. My parents, more so my mom, have been threatening to beat me and hurt me. I don't feel safe at my house anymore and I'm not sure what to do. Advice?
— Lexy, 11
Dear Lexy,
While your parents may be using threats to control you and do not intend to actually hurt you, it sounds like you are really concerned about your safety. If that is the case, you need to immediately find another adult who can help you. Please tell a teacher, your school principal, a nurse or another trusted adults what your parents have said or done to you. And let me know what happens.

Ask Dr. M. for Advice on Your Problem
Top of Page
— December 24, 2016 —
Hi there. So, I'm not sure if my sister (who is nine) and I have an emotional problem. My mom has bad anxiety and it seems as if it passed on to the two of us. When I get nervous, it feels like my heart stops beating for a second or something and I panic. I'm not sure if this is a panic attack. I can't seem to stop feeling guilty over something I did wrong. When I get frustrated, I start to cry. I'm twelve years old! I'm too old to cry. But I do it, and I can't help it, I just break down. Recently, my sister has been acting the same way. She cries or feels guilty when she loses something, like a book. It's awful for the both of us. Our parents just tell us to stop stressing, but WE CAN'T! Do we have a mental problem, or are we just overdramatic?
— Emotional, 12
Dear Emotional,
First of all, people of all ages—including adults—cry. So you're definitely not too old to shed tears occasionally. Second, when your parents tell you to "stop stressing," that's not particularly helpful advice. It would be better for you and your younger sister to learn strategies that you can use when you're feeling sad, anxious, or frustrated. The next time you're stressed, figure out why you're in that state and then brainstorm what actions you can take that would help to ease the stress. For example, if you're nervous about an upcoming test, create a study schedule that will give you time to prepare. Or if your sister loses something, work with her to come up with ways to either find the missing object (maybe retrace your steps) or create specific places for specific items (perhaps all library books should be placed in a colored basket).
Since you don't want to go through life like your mom—with "bad anxiety"—talk to her about why you would like to get help now. If she or your dad won't take your concerns seriously, find another adult—perhaps a school nurse, a caring older relative, or a teacher to talk with. There are many techniques you can learn, including breathing exercises and changing the way you think about and respond to your stress, that can help you live a less anxious life.

Ask Dr. M. for Advice on Your Problem
Top of Page
— December 10, 2016 —
My dad is in the military so that means I don't see him a lot but the problem is that every month he leaves us for a whole weekend or sometimes for entire weeks but the worst part is that he went overseas one year and it was hard. And he's going back overseas next summer and won't come back until 2018, which means that he will miss X-mas, my b-day and lots of other stuff so here's what I need to ask. How do I make my dad leaving us not make me feel sad?
— Missing Dad, 11
Dear Missing Dad,
It's normal to feel sad about your father being away from home so much and especially during holidays and special occasions like your birthday. Before your dad leaves on one of his long deployments, figure out together how you can keep in touch. For example, you can send him video clips of your sports or music performances or even of you telling him stories about your friends and school events. Perhaps the two of you can FaceTime or Skype on your birthday or on other special days (recognizing that it will not always be possible for him). While it's natural to be sad some of the time and to miss your dad, you should also be able to continue enjoying the many positive things that are still part of your life—to have fun with other family members and with your friends. And when you are feeling particularly sad about your father's absence, think about people you can talk to about your situation and who will be able to support you emotionally.

Ask Dr. M. for Advice on Your Problem
Top of Page
— November 26, 2016 —
There is this guy in my class I really like, and he is really cute too! The only problem is, he is a bully! He isn't a bully to me though. He is really nice to me!!! My friends all say I shouldn't like him but instead just this other guy who I also like. Even if he is not a bully to me, does that still mean I should quit liking him? I have another problem too. This summer I have grown (In the breast area) and I am now bigger than all my friends. Of course, I am still pretty tiny. I really want to grow!!! Is that okay? Is there a way to make me grow quicker? My last problem is that I just learned about periods. I want to have mine because I want to be the first one of all my friends to have it. Is that weird? Yes, I talk about it with my friends. Should I keep it private? Or is it okay to discuss it with my friends? Please answer all my questions!!
— Triple Trouble, 10
Dear Triple Trouble,
I will answer all your questions but there is a theme that I want to address first. The things you are wanting to change seem to be out of your control. One cannot make themselves like or not like someone, nor can you make your breasts grow or your period start.
What you can do about the first question is to think about why you like a boy who is a bully. Bullying comes from a deep sense of feeling small inside and in needing to make themselves feel more powerful, they may puff themselves up into a bully. Maybe you like the boy you're attracted to because he's aggressive and you're not. He may not act like a bully toward you now, but at some point you might become his victim since bullies often change whom they attack.
In terms of your other questions, it's certainly okay to know what you want and to talk about your body with your friends. There is nothing you can do to make your breasts grow or your period begin—your body will do what it needs to in a natural way. It sounds like you are feeling a lot of pressure to grow up and compete with your friends. Try to be patient and enjoy each change—even when you're not the first one to experience something. That's a sure sign that you are maturing.
— Mrs. B.
Ask Dr. M. for Advice on Your Problem
Top of Page
— November 13, 2016 —
I'm in fifth grade and want to be an author. Please don't tell me that I should take writing classes, or anything, because even my teachers tell me that I am good. They moved me to a sixth grade writing checklist, and I was the first student in my teacher's class to put an actual, detailed, battle scene in my writing. Of course, this battle was in my mind. But, I don't know what to do, because I love to write, I even have an account on a writing website where I post stories. Please, I want to actually get a book published.
— Parmise, 11
Dear Parmise,
Even good writers can get better, and one of the ways to improve is by having others critique their writing. Just telling you that you are a good writer will not do that, but getting constructive criticism will allow you to see how you can go from good to better. You can get such criticism by asking for feedback on specific aspects of your writing or on something you are struggling with—for example, ask how to make this sentence, section or description better. When I look at the first book I published, I can now see how I could have made it better. And I am most proud of my most recent book, Breaking Through! Helping Girls Succeed in Science, Technology, Engineering, and Math. Three of us worked on that book, and we gave each other helpful feedback as we worked on each chapter. So, continue to write, get feedback, and challenge yourself by exploring new ways of writing—such as essays and fiction. The more you practice, the closer you will get to your dream of getting a book published.

Ask Dr. M. for Advice on Your Problem
Top of Page
— October 29, 2016 —
My friend and I just had a big fight. While we were lining up for PE, she said she didn't want to be friends anymore, just because we had an hour of iPads, and I didn't want to make an iMovie with her. I ended up hanging out with someone else. During actual PE time, she kept talking to me, saying she wanted to be friends again. I told her I didn't want to be friends anymore. She started blubbering about how she has no friends, when really she knows all these people. I want to be friends, but I don't want to keep fighting. Once we fight, we make up. Then two days later, we fight AGAIN. Please help me!
— Sophia, 11
Dear Sophia,
Good friends often fight because they feel so comfortable with each other that they are not afraid to show their true feelings. But because frequent fighting is stressful, it's time for the two of you to talk about what you can do to reduce the amount of conflict. First, let your friend know that while you like spending time with her, you also like having other friends and sometimes doing activities she's not interested in. And tell her that she should feel free to do that as well. Second, assure her that during those times, you still value the friendship you have with her. By telling her that, she might feel less insecure.

Ask Dr. M. for Advice on Your Problem
Top of Page
— October 14, 2016 —
I like this girl, and she likes me back. The only problem? My parents aren't into the whole "middle school dating" thing. They don't know that I like her, but she and I talk a lot over text, and my dad is starting to catch on. I don't want to tell my parents, because for some reason I get really nervous when the subject comes up. What should I do?
— Jacob, 12
Dear Jacob,
If your dating consists mainly of sending texts back and forth, your parents shouldn't object. Besides, you're at an age when you will need to have many difficult conversations with your mom and dad. You might as well begin by talking about the girl you like. You don't have to give every detail to your parents, but if you don't tell them anything they might imagine a situation that is very different from the reality.

Ask Dr. M. for Advice on Your Problem
Top of Page
— October 5, 2016 —
I have an 11, almost 12 year old sister. I am very concerned since I hear her crying at night because we're moving. She constantly states that I have a better future because I'm going into 5th grade, but she's going into middle school. She's always depressed, our mom doesn't make it better by shouting and cursing, not to mention our parents are divorced and hate each other (it is true, my dad even said so), and I am so confused! Please help!
— Sister, 10
Dear Sister,
You are a very caring sister to be concerned about your older sibling. Although you can let her know that you're happy to listen to her talk about what's bothering her, you cannot solve her problems for her. If your mom is not willing to set aside her own issues to support her children's emotional health, perhaps there is another relative—maybe your dad or a grandparent or aunt—who not only would listen but take some kind of action, either by talking to your mom or reaching out to your sister. And remember to take care of yourself (talking to friends, exercising, working on a hobby, or listening to music, for example) since you are living in the same household as your sister and have to cope with all the stress around you.

Ask Dr. M. for Advice on Your Problem
Top of Page
— September 18, 2016 —
I am 11 years old, and I longed for a little brother or sister for a long time. My wish came true a little while ago. My little sister came into this world on July 21st 2016. I was excited at first, but that excitement has worn off. I have to share a room with the baby. She only sleeps two hours in a night. For the rest of the night, she just cries. We can't go anywhere without packing the diaper bag. It takes forever to locate her blankie and pacifier. Diapers are another thing. My mom grounded me because I was out past curfew and now I am on diaper duty for 3 months. I really hate it because she always squirms and makes a mess of it. I also cannot go to the mall. Why? Because on the days I ask, my mom says "there's too many germs at the mall" and I end up not going. I don't even want to look at the baby. She steals my spotlight, cries, and needs someone to clean up after her all the time. Can you help me figure out how to give my little sister a chance?
— Big Sister Blues, 11
Dear Big Sister Blues,
YOU ARE NOT ALONE. Infants don't offer many benefits to older siblings, but when they become little sisters they do (although that will take a while). You are going to be the brightest star to your little sister, but she has to grow up a little first. Big sisters are very important and are deeply admired and loved by their younger sisters. You just have to "wait it out." While you're doing that, sing or play your favorite songs to her, and find other ways to entertain her. You might be surprised at how many things will make her laugh.
Keep in mind that what you're dealing with is not your baby sister's fault. It takes time for a family to get used to a new member. Tell your mom that diaper duty should not be a punishment and will only make you resent your little sister more. There are other punishments for broken curfews. Have you told your mom that you feel that the baby is getting all the positive attention? That often happens. Ask your Mom if the two of you could have some special alone time a couple of times a week. Maybe the two of you can go out for ice cream or take a walk. Things will change, and I think it's important that you be allowed to feel as you do.
— Mrs. B.
Ask Dr. M. for Advice on Your Problem
Top of Page
— September 5, 2016 —
I just moved schools because my dad moved for his work. At my old school people used to say I was a rich brat because my dad and mom are rich. Once at school my housekeeper and nanny picked me and my little sister up in a limo and everyone was whispering and saying stuff like: "show off" and "such a brat." And this boy at my old school used to like me but all his friends said I was a dumb blonde and my parents were too young. But that is not true. And my mom is always at her modeling shoots and dad is always working and I don't want to bother them. I am really nervous about my new school because my parents are not taking me on my first day and I am not sure how to make friends. I want people to see me as Brittany. Not a super rich girl who can get what she wants. Also it is my 11th birthday coming up 2 weeks after I start school. My mum says I should have a MEGA party but I just want to have my party alone but she just says: "Use what you've got and we've got a lot." Please help me.
— Brittany, 10
Dear Brittany,
You can't control what your parents do or say, but you can make sure that you don't flaunt your family's money. People will like and respect you if you act in a real way, showing that you care about how others think and feel. If you don't want a big party, let your parents know that you're trying to fit in at your new school, and having a "MEGA" party will do just the opposite. Instead, ask if you can invite just one or two people to hang out with you, doing something low-key, maybe listening to music together. Even if your parents are busy, you still deserve their attention, so don't hesitate to tell them what's bothering you.

Ask Dr. M. for Advice on Your Problem
Top of Page
— August 20, 2016 —
I am nervous about middle school. First of all, I'm nervous about getting lost, but that isn't my biggest fear. I'm nervous about not finding my locker because we get locker assignments on the first or second day of school. I know I can stay organized but I'm nervous about my locker because it's so small and I might forget my combination. The lockers are literally about as tall as my torso (and I have a small torso) but not even as wide. There is also the girl problem factor. I'll have an emergency kit but I don't even know if it'll fit in our locker! Anyways, please help with just general advice on middle school.
— Elberta, 11
Dear Elberta,
As someone who has been to middle school and high school already I can tell you everyone faces these same fears at some point. It's good that you're working on being organized during middle school because that will be good practice for you when you start high school and especially need that strategy. Lockers seem scary but once you get the hang of them they're not bad at all. My first piece of advice is you should definitely keep your locker combination and location of your locker written down where you can find it easily. Perhaps you can keep it on your phone or a notebook you'll always have with you until you feel you've memorized the information. My other piece of advice is for the "girl problem." If you're allowed to, carry a purse or backpack around with you and keep the kit in there. In terms of your fear of getting lost, you might have to ask for help the first week or so but in a short time, you should have no problem finding your way around. Just give it a little time. I hope you enjoy your year!

Ask Dr. M. for Advice on Your Problem
Top of Page
— August 6, 2016 —
I like this girl, and she likes me back. Her parents know and are cool with it. The only problem? My parents don't want me dating. I have her number, and we talk all the time. I would love to date her, but I'm afraid that my dad will be angry with me. All my life he has told me to just hang out as a group and not date anyone. How can I get around this without getting in trouble? If I start dating her, then her parents will tell my parents. What should I do?
— K, 12
Dear K,
Perhaps you need to explain to your parents what dating means to you and why you want to date this girl. How would it be different from the relationship you now have with her? You talk all the time and you like each other. Does it make the relationship more special when it's called dating? Instead of trying to "get around" your parents' rules, have an open, honest discussion with them and see if you can come up with a compromise that would would work for all of you. Remember that while your relationship with this girl is important to you, so is the one you have with your parents.

Ask Dr. M. for Advice on Your Problem
Top of Page
— July 22, 2016 —
Last year, my grandfather passed. I no longer have any grandparents. I always feel guilt because I never got to say goodbye because I didn't think he would pass so soon. My dad has told me "You could've gone to Arkansas (where they lived) whenever you wanted." He doesn't know the guilt I feel. I need help on what to do. I miss him SO much and I feel so much guilt about never saying goodbye. What do I do??
— Katie, 11
Dear Katie,
It's too bad your dad doesn't understand or care about how guilty he's making you feel. You're already sad because you no longer have grandparents, and you clearly regret that you never had an opportunity to say goodbye to him. Try to forgive yourself, since you would have done things differently if you could have seen the future. And when you think about your grandfather, focus on memories of the two of you doing something fun together.

Ask Dr. M. for Advice on Your Problem
Top of Page
— July 8, 2016 —
I feel I don't have any friends. I have acne and wear braces so I am very self-conscious and embarrassed. I often watch other boys in my class having fun in the playground and wish I could join them. I feel so lonely. What can I do to make friends?
— Caleb, 12
Hi Caleb,
I'm so sorry you have to deal with something like this. It's not fun—really for anyone in this situation. This is what I think you should do: you might want to be brave and just go over to them and hang out with them. Some of them, too, might have acne or wear braces. Even if they don't now, they will. Acne and braces are the two things that almost all young men have to go through at some point—even me!
I know being brave is hard, but I know that being lonely is harder. Hope this helps you to work up your confidence to take action!

Ask Dr. M. for Advice on Your Problem
Top of Page
— June 17, 2016 —
I am a huge fan of your website! And I need your help quickly or else I could get in trouble and even lose my bff. So I accidentally told my bff about something that I was not supposed to tell her. And if she tells our teacher I could get in huge trouble and not march on graduation day !!!!!!!! And I risk ending our 8 month friendship—and it's our last year of elementary school (6th grade) and we plan on going to the same high school!!!! So is it possible that I ruined my entire life because of my stupidity and carelessness?
— Breanna, 11
Dear Breanna,
Discuss the situation calmly with your friend. She might be just as shaken up as you are. If she is a real friend she will listen to your side of the story and understand that you made a mistake. But also remember that we have to deal with the consequences of our actions. If something happens and you get in trouble at school, discuss an alternative with your principal/teachers other than not walking on graduation.

Ask Dr. M. for Advice on Your Problem
Top of Page