Books by Dr. M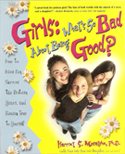 Girls: What's So Bad About Being Good?
How to Have Fun, Survive the Preteen Years, and Remain True to Yourself
Check out our Comments column!
Kids
— November 26, 2016 —
There is this guy in my class I really like, and he is really cute too! The only problem is, he is a bully! He isn't a bully to me though. He is really nice to me!!! My friends all say I shouldn't like him but instead just this other guy who I also like. Even if he is not a bully to me, does that still mean I should quit liking him? I have another problem too. This summer I have grown (In the breast area) and I am now bigger than all my friends. Of course, I am still pretty tiny. I really want to grow!!! Is that okay? Is there a way to make me grow quicker? My last problem is that I just learned about periods. I want to have mine because I want to be the first one of all my friends to have it. Is that weird? Yes, I talk about it with my friends. Should I keep it private? Or is it okay to discuss it with my friends? Please answer all my questions!!
— Triple Trouble, 10
Dear Triple Trouble,
I will answer all your questions but there is a theme that I want to address first. The things you are wanting to change seem to be out of your control. One cannot make themselves like or not like someone, nor can you make your breasts grow or your period start.
What you can do about the first question is to think about why you like a boy who is a bully. Bullying comes from a deep sense of feeling small inside and in needing to make themselves feel more powerful, they may puff themselves up into a bully. Maybe you like the boy you're attracted to because he's aggressive and you're not. He may not act like a bully toward you now, but at some point you might become his victim since bullies often change whom they attack.
In terms of your other questions, it's certainly okay to know what you want and to talk about your body with your friends. There is nothing you can do to make your breasts grow or your period begin—your body will do what it needs to in a natural way. It sounds like you are feeling a lot of pressure to grow up and compete with your friends. Try to be patient and enjoy each change—even when you're not the first one to experience something. That's a sure sign that you are maturing.
— Mrs. B.
Ask Dr. M. for Advice on Your Problem
Top of Page
— November 13, 2016 —
I'm in fifth grade and want to be an author. Please don't tell me that I should take writing classes, or anything, because even my teachers tell me that I am good. They moved me to a sixth grade writing checklist, and I was the first student in my teacher's class to put an actual, detailed, battle scene in my writing. Of course, this battle was in my mind. But, I don't know what to do, because I love to write, I even have an account on a writing website where I post stories. Please, I want to actually get a book published.
— Parmise, 11
Dear Parmise,
Even good writers can get better, and one of the ways to improve is by having others critique their writing. Just telling you that you are a good writer will not do that, but getting constructive criticism will allow you to see how you can go from good to better. You can get such criticism by asking for feedback on specific aspects of your writing or on something you are struggling with—for example, ask how to make this sentence, section or description better. When I look at the first book I published, I can now see how I could have made it better. And I am most proud of my most recent book, Breaking Through! Helping Girls Succeed in Science, Technology, Engineering, and Math. Three of us worked on that book, and we gave each other helpful feedback as we worked on each chapter. So, continue to write, get feedback, and challenge yourself by exploring new ways of writing—such as essays and fiction. The more you practice, the closer you will get to your dream of getting a book published.

Ask Dr. M. for Advice on Your Problem
Top of Page
— October 29, 2016 —
My friend and I just had a big fight. While we were lining up for PE, she said she didn't want to be friends anymore, just because we had an hour of iPads, and I didn't want to make an iMovie with her. I ended up hanging out with someone else. During actual PE time, she kept talking to me, saying she wanted to be friends again. I told her I didn't want to be friends anymore. She started blubbering about how she has no friends, when really she knows all these people. I want to be friends, but I don't want to keep fighting. Once we fight, we make up. Then two days later, we fight AGAIN. Please help me!
— Sophia, 11
Dear Sophia,
Good friends often fight because they feel so comfortable with each other that they are not afraid to show their true feelings. But because frequent fighting is stressful, it's time for the two of you to talk about what you can do to reduce the amount of conflict. First, let your friend know that while you like spending time with her, you also like having other friends and sometimes doing activities she's not interested in. And tell her that she should feel free to do that as well. Second, assure her that during those times, you still value the friendship you have with her. By telling her that, she might feel less insecure.

Ask Dr. M. for Advice on Your Problem
Top of Page
— October 14, 2016 —
I like this girl, and she likes me back. The only problem? My parents aren't into the whole "middle school dating" thing. They don't know that I like her, but she and I talk a lot over text, and my dad is starting to catch on. I don't want to tell my parents, because for some reason I get really nervous when the subject comes up. What should I do?
— Jacob, 12
Dear Jacob,
If your dating consists mainly of sending texts back and forth, your parents shouldn't object. Besides, you're at an age when you will need to have many difficult conversations with your mom and dad. You might as well begin by talking about the girl you like. You don't have to give every detail to your parents, but if you don't tell them anything they might imagine a situation that is very different from the reality.

Ask Dr. M. for Advice on Your Problem
Top of Page
— October 5, 2016 —
I have an 11, almost 12 year old sister. I am very concerned since I hear her crying at night because we're moving. She constantly states that I have a better future because I'm going into 5th grade, but she's going into middle school. She's always depressed, our mom doesn't make it better by shouting and cursing, not to mention our parents are divorced and hate each other (it is true, my dad even said so), and I am so confused! Please help!
— Sister, 10
Dear Sister,
You are a very caring sister to be concerned about your older sibling. Although you can let her know that you're happy to listen to her talk about what's bothering her, you cannot solve her problems for her. If your mom is not willing to set aside her own issues to support her children's emotional health, perhaps there is another relative—maybe your dad or a grandparent or aunt—who not only would listen but take some kind of action, either by talking to your mom or reaching out to your sister. And remember to take care of yourself (talking to friends, exercising, working on a hobby, or listening to music, for example) since you are living in the same household as your sister and have to cope with all the stress around you.

Ask Dr. M. for Advice on Your Problem
Top of Page
— September 18, 2016 —
I am 11 years old, and I longed for a little brother or sister for a long time. My wish came true a little while ago. My little sister came into this world on July 21st 2016. I was excited at first, but that excitement has worn off. I have to share a room with the baby. She only sleeps two hours in a night. For the rest of the night, she just cries. We can't go anywhere without packing the diaper bag. It takes forever to locate her blankie and pacifier. Diapers are another thing. My mom grounded me because I was out past curfew and now I am on diaper duty for 3 months. I really hate it because she always squirms and makes a mess of it. I also cannot go to the mall. Why? Because on the days I ask, my mom says "there's too many germs at the mall" and I end up not going. I don't even want to look at the baby. She steals my spotlight, cries, and needs someone to clean up after her all the time. Can you help me figure out how to give my little sister a chance?
— Big Sister Blues, 11
Dear Big Sister Blues,
YOU ARE NOT ALONE. Infants don't offer many benefits to older siblings, but when they become little sisters they do (although that will take a while). You are going to be the brightest star to your little sister, but she has to grow up a little first. Big sisters are very important and are deeply admired and loved by their younger sisters. You just have to "wait it out." While you're doing that, sing or play your favorite songs to her, and find other ways to entertain her. You might be surprised at how many things will make her laugh.
Keep in mind that what you're dealing with is not your baby sister's fault. It takes time for a family to get used to a new member. Tell your mom that diaper duty should not be a punishment and will only make you resent your little sister more. There are other punishments for broken curfews. Have you told your mom that you feel that the baby is getting all the positive attention? That often happens. Ask your Mom if the two of you could have some special alone time a couple of times a week. Maybe the two of you can go out for ice cream or take a walk. Things will change, and I think it's important that you be allowed to feel as you do.
— Mrs. B.
Ask Dr. M. for Advice on Your Problem
Top of Page
— September 5, 2016 —
I just moved schools because my dad moved for his work. At my old school people used to say I was a rich brat because my dad and mom are rich. Once at school my housekeeper and nanny picked me and my little sister up in a limo and everyone was whispering and saying stuff like: "show off" and "such a brat." And this boy at my old school used to like me but all his friends said I was a dumb blonde and my parents were too young. But that is not true. And my mom is always at her modeling shoots and dad is always working and I don't want to bother them. I am really nervous about my new school because my parents are not taking me on my first day and I am not sure how to make friends. I want people to see me as Brittany. Not a super rich girl who can get what she wants. Also it is my 11th birthday coming up 2 weeks after I start school. My mum says I should have a MEGA party but I just want to have my party alone but she just says: "Use what you've got and we've got a lot." Please help me.
— Brittany, 10
Dear Brittany,
You can't control what your parents do or say, but you can make sure that you don't flaunt your family's money. People will like and respect you if you act in a real way, showing that you care about how others think and feel. If you don't want a big party, let your parents know that you're trying to fit in at your new school, and having a "MEGA" party will do just the opposite. Instead, ask if you can invite just one or two people to hang out with you, doing something low-key, maybe listening to music together. Even if your parents are busy, you still deserve their attention, so don't hesitate to tell them what's bothering you.

Ask Dr. M. for Advice on Your Problem
Top of Page
— August 20, 2016 —
I am nervous about middle school. First of all, I'm nervous about getting lost, but that isn't my biggest fear. I'm nervous about not finding my locker because we get locker assignments on the first or second day of school. I know I can stay organized but I'm nervous about my locker because it's so small and I might forget my combination. The lockers are literally about as tall as my torso (and I have a small torso) but not even as wide. There is also the girl problem factor. I'll have an emergency kit but I don't even know if it'll fit in our locker! Anyways, please help with just general advice on middle school.
— Elberta, 11
Dear Elberta,
As someone who has been to middle school and high school already I can tell you everyone faces these same fears at some point. It's good that you're working on being organized during middle school because that will be good practice for you when you start high school and especially need that strategy. Lockers seem scary but once you get the hang of them they're not bad at all. My first piece of advice is you should definitely keep your locker combination and location of your locker written down where you can find it easily. Perhaps you can keep it on your phone or a notebook you'll always have with you until you feel you've memorized the information. My other piece of advice is for the "girl problem." If you're allowed to, carry a purse or backpack around with you and keep the kit in there. In terms of your fear of getting lost, you might have to ask for help the first week or so but in a short time, you should have no problem finding your way around. Just give it a little time. I hope you enjoy your year!

Ask Dr. M. for Advice on Your Problem
Top of Page
— August 6, 2016 —
I like this girl, and she likes me back. Her parents know and are cool with it. The only problem? My parents don't want me dating. I have her number, and we talk all the time. I would love to date her, but I'm afraid that my dad will be angry with me. All my life he has told me to just hang out as a group and not date anyone. How can I get around this without getting in trouble? If I start dating her, then her parents will tell my parents. What should I do?
— K, 12
Dear K,
Perhaps you need to explain to your parents what dating means to you and why you want to date this girl. How would it be different from the relationship you now have with her? You talk all the time and you like each other. Does it make the relationship more special when it's called dating? Instead of trying to "get around" your parents' rules, have an open, honest discussion with them and see if you can come up with a compromise that would would work for all of you. Remember that while your relationship with this girl is important to you, so is the one you have with your parents.

Ask Dr. M. for Advice on Your Problem
Top of Page
— July 22, 2016 —
Last year, my grandfather passed. I no longer have any grandparents. I always feel guilt because I never got to say goodbye because I didn't think he would pass so soon. My dad has told me "You could've gone to Arkansas (where they lived) whenever you wanted." He doesn't know the guilt I feel. I need help on what to do. I miss him SO much and I feel so much guilt about never saying goodbye. What do I do??
— Katie, 11
Dear Katie,
It's too bad your dad doesn't understand or care about how guilty he's making you feel. You're already sad because you no longer have grandparents, and you clearly regret that you never had an opportunity to say goodbye to him. Try to forgive yourself, since you would have done things differently if you could have seen the future. And when you think about your grandfather, focus on memories of the two of you doing something fun together.

Ask Dr. M. for Advice on Your Problem
Top of Page
— July 8, 2016 —
I feel I don't have any friends. I have acne and wear braces so I am very self-conscious and embarrassed. I often watch other boys in my class having fun in the playground and wish I could join them. I feel so lonely. What can I do to make friends?
— Caleb, 12
Hi Caleb,
I'm so sorry you have to deal with something like this. It's not fun—really for anyone in this situation. This is what I think you should do: you might want to be brave and just go over to them and hang out with them. Some of them, too, might have acne or wear braces. Even if they don't now, they will. Acne and braces are the two things that almost all young men have to go through at some point—even me!
I know being brave is hard, but I know that being lonely is harder. Hope this helps you to work up your confidence to take action!

Ask Dr. M. for Advice on Your Problem
Top of Page
— June 17, 2016 —
I am a huge fan of your website! And I need your help quickly or else I could get in trouble and even lose my bff. So I accidentally told my bff about something that I was not supposed to tell her. And if she tells our teacher I could get in huge trouble and not march on graduation day !!!!!!!! And I risk ending our 8 month friendship—and it's our last year of elementary school (6th grade) and we plan on going to the same high school!!!! So is it possible that I ruined my entire life because of my stupidity and carelessness?
— Breanna, 11
Dear Breanna,
Discuss the situation calmly with your friend. She might be just as shaken up as you are. If she is a real friend she will listen to your side of the story and understand that you made a mistake. But also remember that we have to deal with the consequences of our actions. If something happens and you get in trouble at school, discuss an alternative with your principal/teachers other than not walking on graduation.

Ask Dr. M. for Advice on Your Problem
Top of Page
— June 3, 2016 —
My mother is always forcing me to include my grandparents in things I don't want to. For example, I was making a collage with pictures of my friends and my parents and she told me I had to include my grandparents in because they count as "immediate" family. I agree, but now I lost space for my friends' pictures. She also makes me "play" with them. I'm twelve years old, I don't want to play with my grandparents! What do I do?
— Forced to Include, 12
Dear Forced to Include,
Let your mom know that you you love your grandparents but you're at a stage in your life when your friends are very important to you. Explain that you're too old to play childish games with your grandparents, and that when you spend time with them, you'd rather discuss issues that are important to you. Help your family get used to the fact that you're growing up and have different interests than you used to have.

Ask Dr. M. for Advice on Your Problem
Top of Page
— May 8, 2016 —
Hi there! I am a 12 year old boy and have had a crush on my best friend for a while (a girl). My other best friend (a boy) also likes her. She just found out that he likes her and claims she doesn't like him, but I don't believe her. She laughs at everything he says, she always chooses to talk to him out of all her friends, etc. Today in Science she seemed upset about something, and I asked her about it. She said, "It's you." And that is all. Now I am starting to take interest in her best friend, who has a boyfriend. I really want my best friend to like me, and I have since the beginning of the school year, but I can't figure it out. We do have a school dance, and I think I might ask her to that, but what else? Should I ask her out? I am starting to get really stressed about this. Thanks!
— Date or Wait, 12
Dear Date or Wait,
As you said you've had a crush on your best friend for a while now, so you obviously really like her. My advice would be to go for it, ask her while you have the chance. As for your doubts, you said that you think she likes your other best friend, but she has clarified that she doesn't like him. You said that she talks to him more, but maybe she talks to him more because she trusts him a lot as a friend, I'm sure even you have that one friend you can tell anything to. You also mentioned a bit of confusion in Science—maybe she was just having a bad day. If still in doubt you could ask her to the dance, as a friend of course. She couldn't say no to that! Now as for your interest in this other girl, I advise you not to go for her as it may cause conflict between you and her boyfriend. If all doesn't work try not to let this get you down. You will have other opportunities in the future, and you and she don't have to stop being great friends.
— Hareem
Ask Dr. M. for Advice on Your Problem
Top of Page
— April 25, 2016 —
I have a problem. It's my sister, she's always getting me in trouble. My parents always blame me because I'm the oldest by 2 years. It's ok if she does something to me, but it's not ok if I do something to her. I'm sick and tired of her treating me like this, and if I tell my parents it's just the same old talk, plus they don't even believe me. I would spend 1 hour cleaning my room and she would just drop everything everywhere. She acts like she is the boss but she's not. What should I do? You've probably heard these stories before. I just need a little advice. I don't know who to go to.
— Mia, 11
Dear Mia,
As an only child, I might not necessarily know what you're going through but I do know how to handle conflicts. You should definitely have a talk with your little sister about the way she has been acting. But, do not discuss the situation when you are feeling angry, frustrated, or upset. Try to listen to your sister's side, and then tell her about your feelings. You might learn, for example, that she resents the privileges you have as the older sister or she's frustrated—that she never gets to be first in anything. If the situation doesn't change, you should probably have your whole family sit down and address the situation calmly. Express your concerns and explain that you feel that you're being unfairly blamed for situations that are not your fault. If no one in your family will listen, think about another adult you can talk with—perhaps an older cousin, an aunt, a grandparent, or a teacher.

Ask Dr. M. for Advice on Your Problem
Top of Page
— April 9, 2016 —
I love your website. I have a bit of a problem right now. l have suddenly became super popular, and I HATE it. Everyone is paying attention to me and I feel like jumping into a hole. What should I do?
— Try 2 Be Happy, 12
Dear Try 2 Be Happy,
You don't explain why you have suddenly become popular, but all the attention might bother you because you're not used to it. In time, you might grow to enjoy the attention and use it to inspire others to do something that has a positive impact on your school or community. But also make sure you find places where you can be away from those who admire you, where you can simply relax. And spend time with your true friends, those who don't want to be with you because you're popular but rather like you for who you have always been.

Ask Dr. M. for Advice on Your Problem
Top of Page
— March 31, 2016 —
I have an awful teacher at school. I mean, AWFUL. She makes us do excess, needless work, hardly ever lets us have recess when we should, and doesn't follow her own rules. We must have every book report book approved by her, but she won't even look at them. When we need help with math, she'll make us stand up in front of the class and explain what we don't understand. Everything is so bad that I've become terrified of school. I have panic attacks every morning about having to go to school, and it just scares me. I can't leave because I'm in a special program in school. Help.
— Scared Student, 12
Dear Scared Student,
I can understand why you've started to dread school. And it sounds like your teacher would not be likely to listen if you were to explain to her how you feel. You may need to involve a parent, describing, just as you did in your letter to me, why you are so distressed by how your teacher is acting, and be very specific. The more details you provide (such as how often she skips recess, how long she takes to give back a book report, which rules she violates, and how she humiliates students who do not understand something), the easier it will be for your parent to describe the situation to a school administrator. If you can't talk to a parent or your parent won't support you, think about other people you can talk with. Perhaps you can have a conversation with a school administrator who is kind and understanding or a school nurse or counselor who is trained to listen to kids. You shouldn't have to be scared of school—that's not the best way for any student to learn.

Ask Dr. M. for Advice on Your Problem
Top of Page
— March 15, 2016 —
I am ten years old and am homeschooled. I don't have any friends and get very lonely. I just don't know what to do. Most of the time, when I'm finished with my schoolwork, I just lay in my bed bored out of my mind. I would give anything to spend one more day at my old school. I tried asking my parents, but they just say to hold tight and that we are moving and they will put me in a school where I can find some friends. But I'm not sure if I can wait any longer! So, should I hang tight till I move, try to be more social, or take it as a sign that I should spend more time with myself?? Please help!!
— Lonely Loner, 10
Dear Lonely Loner,
First, ask your parents when the planned move will take place. Having this information will allow you to think about what it will be like when you relocate and make the move feel more real. Second, while you're waiting, brainstorm with your parents what you can do to have a more active social life. Maybe you can find a club, team, or youth group to join in your community. Third, when you are alone and finished with your homework, spend time on a hobby. If you don't already have one, do some research to discover a couple that interest you, whether it's creative writing, drawing, playing a musical instrument, or investigating nature with a microscope or magnifying lens.

Ask Dr. M. for Advice on Your Problem
Top of Page
— February 29, 2016 —
What should I wear to school next year? This year I am applying to a private school and they have no uniforms. I have no idea what I am going to wear because I have been at a uniform only school for a long time. I know that the next school year isn't too close so that gives me some time. Please help and thank you
— Mel, 11
Dear Mel,
I think the best idea for your new school is to wear appropriate clothing even if there's not a required uniform—maybe clothing options such as a button down shirt with nice slacks or perhaps a cute sweater with jeans for a more casual look. You've been given an opportunity to express yourself through clothing. As long as you don't wear really short skirts, or anything that detracts from the school's image, then what you wear should be acceptable. You could also visit the school before you start and observe what others are wearing.

Ask Dr. M. for Advice on Your Problem
Top of Page
— February 14, 2016 —
My 18 year old sister has a very abusive boyfriend. When she was babysitting me while her boyfriend was over he was very abusive and threw things to the ground. They never knew I saw. The next day I asked my sister if her boyfriend was nice to her. She said that he loved her just as she loved him. So far, I am not so sure about that. I told her about what I saw about his abusive behavior and warned her. She never listens to me and she is getting hurt! I want her to be safe, not sorry! How can I get her to listen?
— Kassidy, 10
Dear Kassidy,
I'm sorry to hear about your sister and her boyfriend. Sometimes, people caught in abusive relationships don't realize it and won't listen to anyone telling them differently. That's why I think you should tell your parents about what you saw. Maybe your sister won't listen to you because she thinks you don't know what you're talking about. But she might listen to your parents—and they are probably in a better position to handle this.

Ask Dr. M. for Advice on Your Problem
Top of Page
— January 31, 2016 —
My grandparents are coming to live with my parents, my sister and me in the United States. My family is Indian American and my grandparents live in India currently. As I have lived in India for three years with them before, I know that they can sometimes be a little nosy about my schoolwork or pushy about eating. Space is not a problem and we already have a room for them. I love them a lot, but I don't feel excited about them coming because of previous experience. What do I do?
— Nalini, 11
Dean Nalini,
It will be a bit of a challenge to get used to your grandparents living with you. Try to remember that when they ask about your schoolwork or tell you what to eat, they're doing those things out of love and concern for you. You may have to gently remind them from time to time that you're growing up and that you're doing your best to do well in school and to take care of your health. Also, think about the positives of your situation—your grandparents can support you and spend time with you when your parents are busy.

Ask Dr. M. for Advice on Your Problem
Top of Page
— January 16, 2016 —
My parents treat me and my twin like we are bffs. Since my she is a loser and has no friends I am forced to invite her to hang out with me and my friends. If someone doesn't like her—I can't be friends with that person—and that's a lot of people. Since she is a copycat we have the same hobbies and activities, so I have to ride with her to these activities and I can't carpool with my friends. My parents know we fight so I always hear lectures on how we are supposed to love each other. But I HATE HER!!! Please help me.
— Not a Twin, 12
Dear Not a Twin,
I understand why your parents want you to feel close to your twin, but they can't force you to feel a particular way. It seems that the more they push the two of you together, the more you resent her. I have two different types of advice for you—one in terms of what you should tell your parents, and another regarding the way you interact with your sister. Let your parents know that the more they push you and your sister together, the more conflict there is likely to be. Suggest that they encourage your twin to be involved in activities that are different from yours and help her find her own friendship group. That way you're not in competition with each other or forced to spend so much time together, which breeds resentment. Next, try to be a bit more understanding about your sister's situation. You can easily make friends while she can't. Instead of fighting with your sister, give her some suggestions about what she can do or say or even wear that would help her make friends. You and your sister might volunteer together in your community, something that you're both doing to help others and takes the focus away from your relationship.

Ask Dr. M. for Advice on Your Problem
Top of Page
— January 1, 2016 —
My friend's birthday is coming up, and she invited me to her party. Unfortunately, it is on the same day as the school dance, and someone already asked me if I would go with them. I don't know if I should go to the dance or to my friend's birthday party. I don't want to let anyone down.
— Choices, 12
Dear Choices,
It's very difficult choosing between two fun things, but my best advice is to choose what you agreed to first. You should definitely let the other person know that you just can't go because you already promised someone else prior to getting that second invitation. Be completely honest because the worst thing is to lie your way out and possibly get caught. Doubling up on plans happens to everyone. Try to schedule doing something with the other person to show you do want to spend time with her/him. Good luck.

Ask Dr. M. for Advice on Your Problem
Top of Page
— December 20, 2015 —
I am a 12 year old girl and all my friends seem to be going through puberty a lot quicker than me (bigger breasts, especially). This might not seem like a real problem but people treat me as if I'm younger than I am, and it is driving me insane. I have always been the more mature and responsible one of our friend group but because of the way I look people treat me like an 8 year old. I am tall (5ft 1), as tall as everyone else in my class if not taller but no matter my height I am still treated like a baby. Please help me! I don't know how to handle it. (Also on a side note how do I tell my mum I want to wax my legs?)
— Feeling Small, 12
Dear Feeling Small,
Remember that your situation is temporary. You will not look or feel the same even in a year from now. I have gone through similar situations and the key to this situation is time. Everyone is unique, which is good because it allows each person to stand out in some way. What matters is what's on the inside. Since you note that you're the responsible and mature one among your friends, as soon as people listen to you, they will figure out that you're at least 12. As for telling your mom about waxing, explain to her that you're feeling a little bit uncomfortable about how noticeable the hair on your legs is and that you would feel a little more confident in yourself if you could wax your legs. Your mom was in your shoes once—she knows how it feels to grow up.

Ask Dr. M. for Advice on Your Problem
Top of Page
— December 7, 2015 —
My sister is driving me CRAZY! She's always putting me down and lowering my confidence. This is a serious problem that I've already talked to my parents about, but I need extra advice. This is NOT sibling rivalry. She is like an older, stronger, and meaner bully to me. I've tried doing everything I can like avoiding her and ignoring her nasty comments but it's NOT WORKING!!!! You've never answered my questions before but now I desperately need your help! My parents aren't helping much! HELP!!!!
— Julia, 12
Dear Julia,
I'm sorry you have to deal with such a mean sister. I know where you're coming from—my brother isn't always the nicest either!
Anyway, I think the best way to solve your problem is to have a talk with your sister. Now I know that might sound unhelpful, but it's a good place to start. Tell her calmly and plainly what she did and how her words and actions made you feel. It's possible that your sister might not know what she's doing is bullying or wrong—hopefully, this will fix that.
If that doesn't work, you can talk to your parents again. I know you've said that they aren't much help, but I'd suggest giving them another chance. But this time, go to them immediately after your sister bullies you. Tell them calmly and clearly what it is she did, how you felt, and how you'd like them to help you. For example, if your sister puts you down about a test grade, talk to your parents immediately. Lay out to them exactly what she said, what you said, how you felt, and WHY you felt that way. Hopefully, this will convince them that you're being serious and not just annoyed for no reason.

Ask Dr. M. for Advice on Your Problem
Top of Page
— November 23, 2015 —
I went to the amusement park with my friends for my BFF's birthday. We went to a cafe afterwards, and everybody was buying a t-shirt, so I thought, why not? And my mom gave me money to buy something so I bought a t-shirt with that money. When I got home, she got really mad about it. I don't get it. Why did she get mad? Another time, I finished soccer practice so I was going to ride the train, then I realized I forgot my water bottle at school. And my mom gets really mad when I forget stuff, so I ran back and got my water bottle. So I was a few minutes late coming back home. She got really mad. Why did she get angry?
— Why, 11
Dear Why,
I understand why you're puzzled about your mom's anger. Your mom had given you money to buy something at the cafe, so you didn't do anything wrong when you spent it. With the second example, your mom might have gotten angry because she was worried about you when you were late getting home. But she should have said that to you and given you a chance to explain what had happened. It could be that your mom's anger has nothing to do with you, but rather with something that's frustrating her in her life. To try to find out more, find a time when you and your mom can have a private conversation. Describe the two situations and ask her why she was angry. Explain your side in both of these situations and see if she can give you some insights about her reactions.

Ask Dr. M. for Advice on Your Problem
Top of Page
— October 18, 2015 —
I am a 12 year old girl and I love to act. It's what I love to do most! But amateur stage acting is not enough. I want a proper camera, lights, costumes and much better co-stars, and I need an agent for that! But every time I try to explain this to my parents they ignore me or say: "Don't bother trying to become famous." Or something like that. They just think I want to be rich and famous! I don't. I just want to be among people who feel the same way. Thanks for reading this!
— Lexie, 12
Hello Lexie,
At the age of 12 you will definitely need the support of your parents or another adult to get to the next level. There is nothing better than having someone you trust who believes in your talent. I wanted to be a singer and my parents never really thought of it as a true career. I kept singing and going to recording studios on a consistent basis. When I began to receive letters from music companies wanting me to write songs for their artists, my parents started to take more of an interest in my singing. In the performing arts industry, sometimes it takes someone outside of the family to recognize your talent, and that's when your parents might begin to take this type of career seriously. Most parents do not feel that a career in the arts is stable enough, and they truly want the best for you. Also, remember that not everyone's path into this industry is the same. You already have the wheels moving in a positive motion, so keep doing what you love. When the right time comes, someone will notice you!
— Velben
Ask Dr. M. for Advice on Your Problem
Top of Page
— September 30, 2015 —
I am almost 12 and going into 6th grade! But I still don't have a phone!!!!!! Every single person in my class has a phone!! This girl got her first phone in KINDERGARTEN!!!!!! I have a really old iPod (4th generation), which is terrible!! Whenever I am doing something that has to do with the Internet it takes me back to the home screen!! When I begged my parents (when I say "parents" I mean Mom, my dad doesn't care about technology that much—he has a Blackberry) to let me have a phone they would say "you are not responsible enough! You can't even keep your room cleaned!" (Which is true but I am always busy!!) What should I do?!!!!
— Phone-less, 11
Dear Phone-less,
Since your parents have told you that you need to show that you are responsible enough to own a cell phone, you should show them that you are. You already realize that you are not keeping your room clean, which is one of the ways to demonstrate that you are mature. Instead of making excuses—"I'm always busy"— figure out how you can manage your time better so you can make sure your room is neat. Since a cell phone comes with a cost, decide how you're going to contribute to that—a sure sign of maturity. Maybe you can suggest doing a couple of extra chores as your contribution to the monthly cell phone bill. When your parents do agree to allow you to get a phone, make sure you know the rules for its use (the number of texts you are allowed to send, for example) and honor your part of the agreement.

Ask Dr. M. for Advice on Your Problem
Top of Page
— September 7, 2015 —
I have a friend who is a bully to mostly everyone else except me. She is really nice to me and always wants to hang out, but I feel like hanging out with her says something about me, considering the fact that she's a bully. She's also sensitive to people saying things about her and I don't want to hurt her feelings. What should I do?
— Unsure, 11
Dear Unsure,
If you enjoy hanging out with this girl and she treats you well, continue to do so—at least for now. I understand why you are thinking about what others who have been bullied by her might say about the two of you spending time together. However, the way I see it is that you have a great opportunity to help her learn other ways of being with people. When you observe her bullying someone else, let her know what you've seen and how her actions make people feel. Maybe she'll open up to you about why she's behaving that way. It could be because she's been bullied at home or doesn't know how to get attention in a more appropriate way. Be sure to tell her that you have fun when the two of you hang out and would like to continue, but it will be tough to do that when she's not very nice to other people. And look for instances when she acts kindly towards others, remembering to tell her how great it was for you to see her acting in those positive ways.

Ask Dr. M. for Advice on Your Problem
Top of Page
— August 20, 2015 —
I love this website. Well anyway here is what I need advice on. Next year, I am going to an all girls school and I'm excited but nervous about the new school. I am afraid of not making friends, dealing with the school work and more. Please help me!!!
— Brianna, 10
Dear Brianna,
I'm really glad you're a fan of our website! Going to a new school is a big deal, so it's not surprising that you're nervous and excited. If you feel prepared, the adjustment to your new school will be easier. Visit the school before the new year begins to get a sense of the physical layout, so you won't panic when you can't find a bathroom or even your classroom on the first day. Once you start school, start conversations with other students by saying that you're new to the school and ask what they like most about going there. Think about joining a club or team so you'll meet others who share your interests. In terms of the work, make sure that you let your teacher know as soon as possible if you're having trouble understanding a particular topic. And do all the things you know you need to do to stay alert and focused, like getting enough sleep, eating healthy, and exercising regularly.

Ask Dr. M. for Advice on Your Problem
Top of Page
— July 29, 2015 —
Ok so I'm creating a club but I have so much to do. My friends don't know that and keep asking me if the club is ready but I'm like totally getting headaches over this. I mean all I've done is made a logo! I'm a total flop. Why is life so hard. What can I do!
— Totally stressed out, 10
Dear totally stressed out,
Creating a club is a big deal and a lot of work, but remember in the end it's also a huge accomplishment on your part. Making something you're proud of means taking your time and getting it right. Your friends are clearly very excited and can't wait to participate in the club, but you have to let them understand that something like that takes time and patience. Remind yourself why you wanted to create the club in the first place and how amazing it will be once it's done, not only for your friends, but for you, too.

Ask Dr. M. for Advice on Your Problem
Top of Page
— July 13, 2015 —
Hello. I am in a group of 4 friends and we are all pretty close. But lately 2 of my friends have been going out without my other friend, and my other friend is always hanging out with others. Today my friend was getting braces and had to take the whole day off school. But when I was on my way to my car I saw her with the friend she hangs out with a lot. They were obviously going out as I saw them get in the same car, but they don't bother to invite me anywhere anymore and I feel really sad and lonely. I'm too shy to confront them. What should I do? Thanks.
— Sad, 12
Dear Sad,
Friendships often change as people develop different interests. Although you'd rather not confront the friend you saw with your other friend, consider just having a friendly conversation. Casually mention to one or both of them that you saw the two of them hanging out together—no questions, no accusations, no drama. See how they respond then as well as in the days ahead. If they continue to exclude you, it's time to do what your other friend did—find other people to hang out with. Maybe that friend can introduce you to some of her friends. Or you can join a club or volunteer in your community where you will meet others. Give new friendships a chance to develop, but don't give up on the old ones unless they have truly decided to move on.

Ask Dr. M. for Advice on Your Problem
Top of Page